Free eBook: Alternative DNS Servers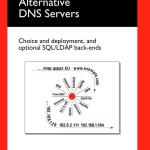 Grab this 747 pages DNS eBook for Free; Written by Jan-Piet Mens, titled "Alternative DNS Servers". I glance through at the eBook and found several interesting topics for DNS deployments.
Bind DLZ – The Bind extension which can store your data in database MySQL, PostgreSQL and etc.
NSD – A lot people didn't know about Name Server Daemon, find out more from the eBook.
DNS Planning – Name Server deployment planning, capacity planning and how to scale.
PowerDNS – Configure and master it.
LDAP DNS – Deploy DNS server with LDAP.
Alright, enough with the talks, where to download the eBook? It's FREE for Download here