OS X Lion Hot Corner
OS X Lion Hot Corner Preference
OS X Lion Hot Corner configuration preference no longer available on System Preference panel. It's because of the Mission Control is designed to replace Exposé and the behavior of view All Application Windows. I was also thought that OS Lion has removed hot corner at the first place.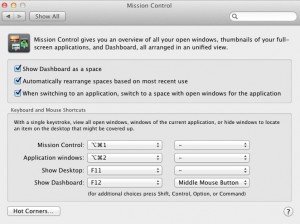 OS X Lion Hot Corner Missing?
OS X Lion Hot Corner feature is not missing, don't worry about it 😉 It's now "reside" at Mission Control preference. You can see it at the left bottom when access to Mission Control preference panel.
OS X Lion Hot Corner, Anything New?
OS X Lion Hot Corner preference has added two new options, Launchpad and Mission Control. Which is expected since it's the new features for Mac OS X Lion.